SFTP Gateway 3.x Minor Upgrade Guide
Overview

SFTP Gateway does not have an in-place upgrade process. Rather, you will need to spin up a stack for the new version, and migrate your users and settings.

For example, if you are on version 3.0.0, you need to launch a new stack for 3.0.1 and perform a migration.
Export

First, you need to export your users and settings from the older instance.

In the web admin portal, go to Settings.

Then, click Export.


Fig-1
This will download a file named sftpgw-backup-yyyy-mm-dd-hh-mm-ss.yaml.
Import

Next, import your users and settings into the new instance.

In the web admin portal, go to Settings.

Then, click the upload icon. This will open a dialogue for finding your file.

Click Import.

You should see some log output.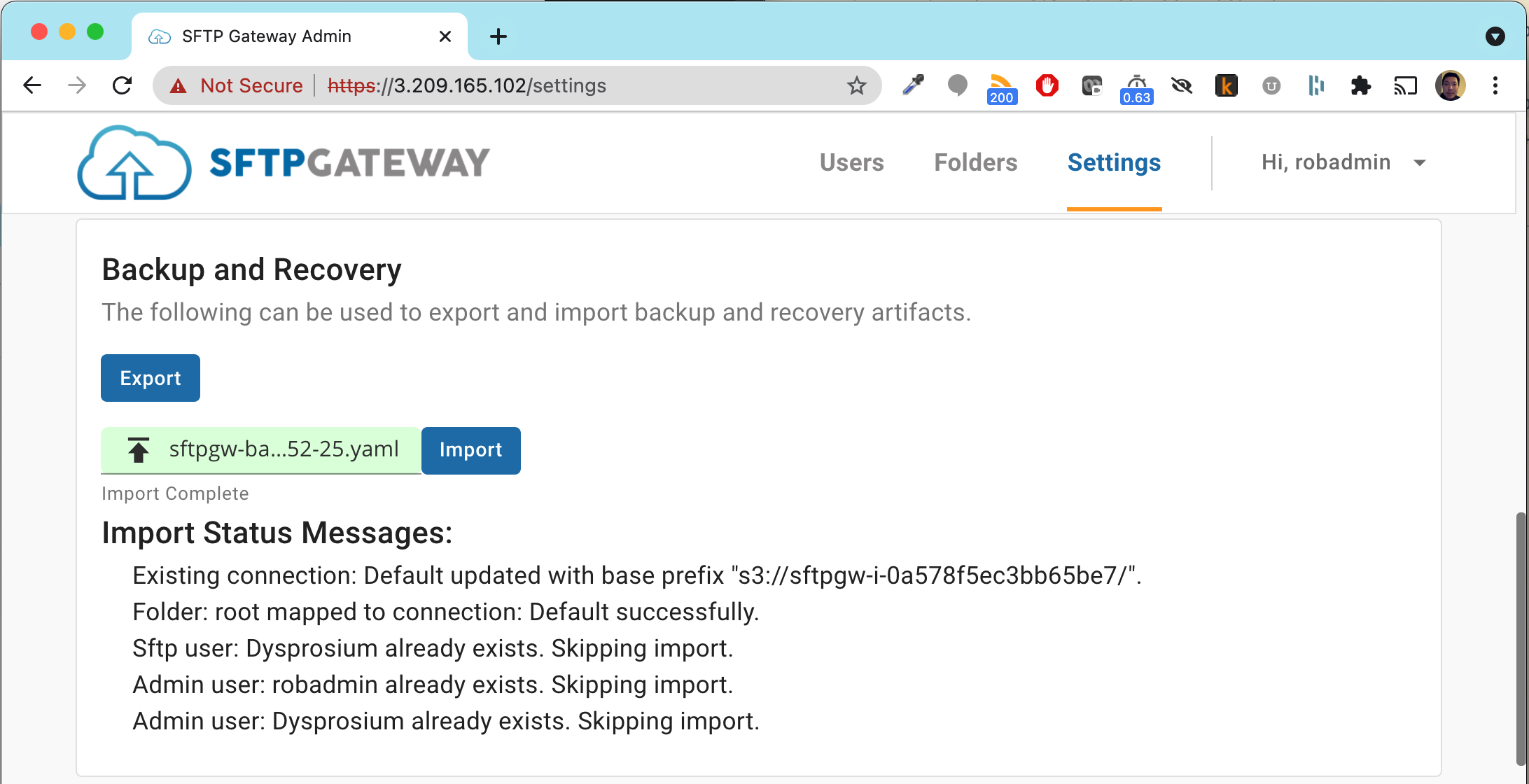 Fig-2
Server host keys

Your existing SFTP users will have cached the server host keys from the old server, where are stored here:
/opt/sftpgw/

You will need to manually copy them over to the new server, in the corresponding location. Otherwise, they will get an error about the server host keys not matching.
Cutover procedures

When migrating to the new server, you will perform a final cutover. There are two approaches for this.

First, you can take the Elastic IP from the old instance, and associate it with the new one. This is the fastest and simplest way to perform a cutover. Also, you can quickly revert if something goes wrong.

Second, if your SFTP users are connecting via hostname, you can make a DNS change. DNS changes take a while to propagate through the internet, so consider reducing the TTL in the days leading up to the cutover if possible.