Getting Started with SFTP Gateway 3.x
Introduction

SFTP Gateway is a pre-configured SFTP server that transfers files to GCP Cloud Storage.

Version 3 lets you read and write directly to Cloud Storage, using the SFTP protocol. This version also includes a folder management feature for configuring sharing scenarios such as multi-user read/write to the same Cloud Storage location.

To start, you provision SFTP Gateway from the Google Marketplace. This takes you to the VM creation wizard in the Google console. Here, you configure VM settings such as the VM size, and Firewall rules to open up SFTP access while restricting ports reserved for admin use.
Google Marketplace Steps

You first need to subscribe to the SFTP Gateway product. Doing so allows your Google account to provision the SFTP Gateway VM offer.

Navigate to the SFTP Gateway product on the Google marketplace.

You should see the following screen:
Google Console Steps

You will be taken to the Google Console: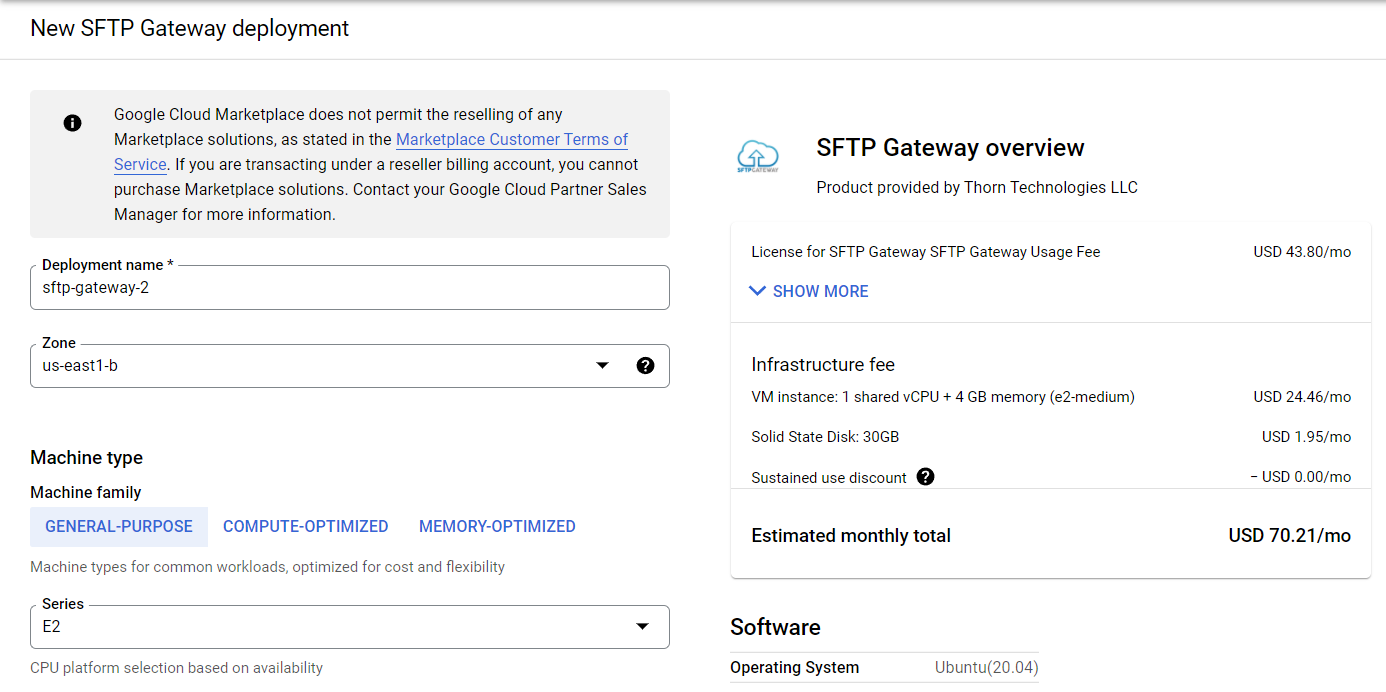 Create a VM
On the Basics tab, fill out the following information:

Deployment name: Enter a name for your VM. Since this is Linux, try to use only lowercase letters and hyphens.
Zone: Select a region.
Machine type: We recommend a General-Purpose series E2 machine and for testing purposes, you can use e2-small.
Public inbound ports: Keep this at the default, which is to allow SSH (22). You will later configure advanced options on the Networking tab.
Firewall: Check off every option and open port 22, 80, 443 and 2222 to your IP address. These are the ports for SFTP, HTTP, HTTPS and SSH.
Access the Admin Interface

To access SFTP Gateway admin interface, go to the compute engine, then VM instances and copy the Public IP address of your VM (Fig-1).


Fig-1
Paste the URL in the address bar of your browser.
The next step is to go through the First Launch Experience to create your first web admin account.